The Journalism Industry, Threatened by the Tech Giants, Pushed to the Brink of Collapse by Coronavirus
The journalism industry has never failed to be there for its readers, delivering vital information even in times of national emergency. As the Coronavirus pandemic spreads across the United States, upending daily life for practically everyone, Jason Kint, CEO of Digital Content Next, says its best, "We need the news. And the news needs us." 
News outlets have been designated as essential services and remain open and publishing despite the closure of business in large portions of the country. America's health care workers are on the front lines of this battle, but reporters are often there too telling their stories. Journalists are also communicating critical information to their communities about the decisions and recommendations of public health officials.
As the virus spreads, many news outlets are dropping pay walls and offering dramatically reduced subscriptions rates in order to deliver the news on the virus to as large an audience as possible. And Americans are turning to their favored news outlets more and more during this crisis. According to the New York Times, overall visits to news sites traffic have increased 57 percent. 
Such a surge in traffic should be translating into higher ad revenue. But the marketplace has been broken by the tech giants. 
Google and Facebook have siphoned off tens of billions in revenue that used to go to news outlets. Newspaper ad revenue declined by nearly 50 percent from 2011-2018 to $14.3 billion, while Google and Facebook's revenue more than quadrupled to $171.2 billion. The UK Competition and Markets Authority found that the returns that Google and Facebook make in the digital advertising market were so high that it is "consistent with the exploitation of market power."
In this broken marketplace, the surge in traffic to news websites from Americans looking for information on the Coronavirus is not translating into additional revenue. According to a graph from Ezoic on ad revenue, the gap between this year and last year continues to grow.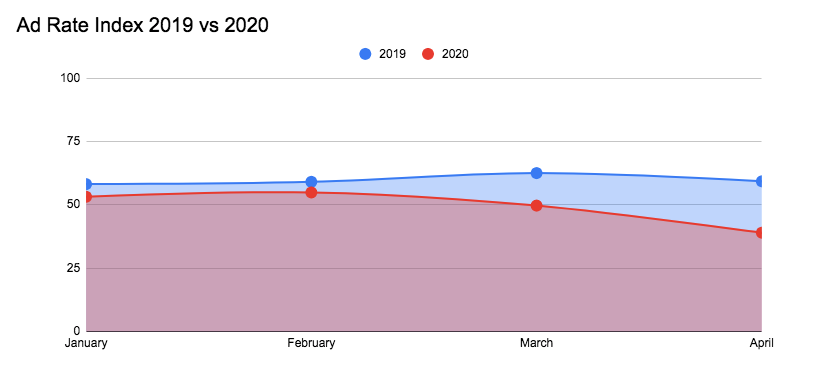 Additionally, some advertisers are refusing to place their ads next to stories covering the pandemic. 
This is why even though the crisis is less than a month old, newspapers remain open and operational, and much larger audiences are reading their material, dozens of newspapers have shut down or reduced publications, hundreds of journalists have been laid off, and nearly 700 news outlets have imposed furloughs or pay cuts. 
The last great economic crisis hit the journalism industry hard, with ad revenue declining by 40% from 2007-09. Thanks to the market dominance of Google and Facebook, it never recovered. If urgent action isn't taken to save journalism, much of the journalism industry in America will cease to exist.
The following is a statement from John Stanton, former DC Bureau Chief for BuzzFeed and co-founder of the Save Journalism Project:
"It is clear that we have and always will have a need for the fourth estate. From protecting our democracy, to keeping those in authority held accountable and in this current state, combating a pandemic sweeping our globe, the news has always been there for us and yet big tech continues to fail it. While Google, Apple and Facebook have always been the villain behind news outlets' demise, this pandemic is exacerbating and inflaming newspapers' reality — newspapers, despite their heroic reporting, are being starved of its rightfully earned money and it's all in the numbers. 
But you have a role here, too. Reading your local newspaper is a crucial first step to keeping news outlets as an essential service to our country, but certainly not our only one. As newspapers continue to see declining ad revenue, we as consumers must step up to preserve these institutions that tell the stories that matter the most to you.
If we want to come out of this crisis united, we must encourage a thriving news industry and that starts with donating and supporting your local newsrooms. As a community of consumers, who desperately rely on this reporting, we must save the fourth estate or else a future crisis will go unreported."